About Ev Expo Bangalore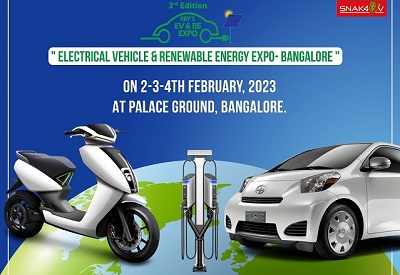 EV Expo and Green energy summit 2022 bangalore, Expo & Conference EV Expo Bangalore brings to the Electric Vehicle industry the opportunity to showcase, see and understand the latest in an electric vehicle, Components, and Services for convenience and environment-friendly transportation of passengers and goods. The exhibition ensures that the proper national and international players exhibit their technology and products to the proper audience the owners & Operators, the manufacturers & Traders.
Explore the latest in E-bikes, E-rickshaws, Electric scooters, E-Cars, E-busses, Lithium Battery & find special offers from the biggest and best Electric Vehicle Indian as well as International brands. Also, meet special guests and experts, take a test drive and enjoy high flying action, plus much more!.
Why You Should Join
150+ exhibitors
5000+ dealers / distrubutors / franchise
12 conference and seminar
1000+ product display
20+ new product launch
Ev Expo Bangalore November 2022
Leaders Vision
PM Narendra Modi has a vision of India becoming the world's leading market for electric vehicles. But what direction we will take remain unsaid. The Prime Minister wants India to be the world leader when it comes to electric vehicles.
Union minister Nitin Gadkari has announced that the government is aiming for 30 per cent electric vehicle sales penetration for private cars, about 70 per cent for commercial vehicles and 80 per cent for two- and three-wheelers by 2030. He stressed that there is an immediate need to decarbonize the transport sector.
Core Activity
A Four-day exhibition at Palace Grounds on the 3rd, 4th, 5th& 6th November 2022.
Provide customers with a test drive track so they can understand how the drive works.
In addition, the platform provides comprehensive information about the environment-friendly and convenient features of EVs.
Potential buyers of the vehicles will be brought together on a common platform during the event.
We will promote the event extensively through print, digital, radio, and television to ensure a positive turnout.